Some of you may have heard of the "Dogs of the Dow" strategy. Investment manager Michael O'Higgins originally brought the strategy to the forefront in his 1991 book, "Beating the Dow."
The concept was simple. O'Higgins purchased the 10 laggards in the Dow Jones Industrial Average at the beginning of each year. Because dividend yields move in the opposite direction of stock price, he simply invested equal amounts of money in the 10 Dow stocks with the highest yields.
The Dogs of the Dow investing strategy has been popular since it was first introduced in 1991. The strategy is very simple: buy the 10 highest yielding dividend stocks in the Dow Jones Industrial average, and hold them for 1 year. Repeat every year.
Since he knew all of the stocks that were included in the Dow were inherently good companies, they were likely to bounce back quickly once investors realized they were undervalued.
His strategy worked. Backtesting showed that since the 1920s, this "Dogs of the Dow" strategy outperformed the market every year. And from 1992 to 2011 , the stocks averaged a return of 10.8% per year -- beating the S&P 500's 9.6% annual return over the same time period.
With that as inspiration, I've created my own custom "Dogs of the Dividend Aristocrats" strategy to find the absolute best Dividend Aristocrat stocks to purchase this year.
I've kept it simple -- picking the 10 highest-yielding Dividend Aristocrats out of the list of 54 companies that are part of the index.
Here is a great list of the "Dogs of the Dividend Aristocrats" (ranked by highest dividend yield to lowest):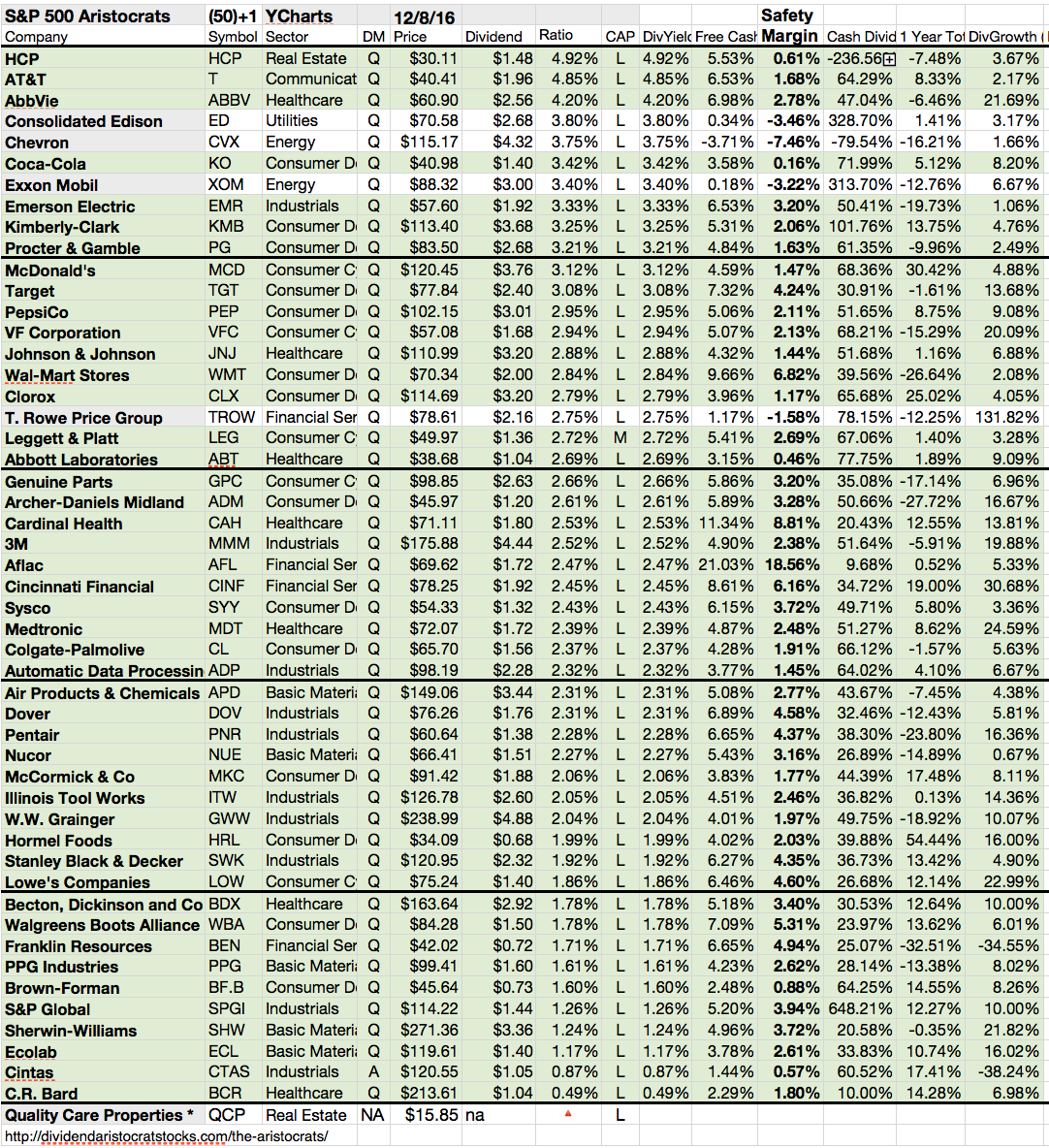 S&P Aristocrats Dividend Dogs
(Source: Seeking Alpha)